SAPPHIRE NITRO+ Radeon RX 580 Special Edition 8GB Gaming Graphics Card 11265-21-20G
Roll over image to zoom in
Click to open expanded view
₹34,089.00 (-21%)
SAPPHIRE NITRO+ RADEON RX 580 SPECIAL EDITION 8GB GAMING GRAPHICS CARD 11265-21-20G
Based on the award-winning SAPPHIRE NITRO+ RX 580 design, the SAPPHIRE NITRO+ RX 580 Special Edition has been factory overclocked at 1430 MHz boost engine with 8.4 GHz effective memory.
Complementing the SAPPHIRE NITRO Gear custom backplate and shroud accessory family, the NITRO+ RX 580 Special Edition features a stunning metallic blue shroud and backplate lit up by a blue LED fan.
Designed for quiet and powerful performance, the SAPPHIRE NITRO+ RX 580 Special Edition delivers to gamers the optimal 1440p gaming experience.
SAPPHIRE NITRO+ Radeon RX 580 Special Edition 8GB Gaming Graphics Card 11265-21-20G
---
NITRO Quick Connect
SAPPHIRE's Quick Connect System provides a quick and easy solution. If there's a fan issue detected, the user doesn't need to return the entire card – SAPPHIRE's partners will send out a replacement fan directly to the customer or the retailer. Please contact your place of purchase to request a fan replacement. SAPPHIRE's channel partner will arrange the ideal solution for you to receive your replacement fan.

---
NITRO Free Flow
We looked at the traditional axial fan design system, and found that the way it circulates the hot air back to the fan inlet resulted in a higher temperature over time. With NITRO Free Flow (NFF) we redesigned the airflow of the entire cooler and board, so that the hot air is expelled through the system fan instead, rapidly dissipating heat.
---
NITRO Boost
The new NITRO Boost switch increases the boost clock and power limit for higher performance to unleash the gaming performance of the card.
Planning to overclock or looking for maximum performance? SAPPHRE NITRO cards come with an 8 pin power connector to plug in and enable Nitro Boost.
---
Dual-X Cooling
SAPPHIRE's acclaimed Dual-X Cooling is powered by two massive yet silent fans and state-of-the-art radiator design. The new form of our 95mm blades mean greater airflow and superior heatsink coverage at lower noise compared to standard cooling designs.
These feature dual ball bearing fans, which have an 85% longer lifespan than sleeve bearings in our tests.
---
VR Friendly
The SAPPHIRE NITRO Gaming Series cards come with Dual HDMI ports, specifically designed to work with VR. By having two HDMI ports, you can have both an HD monitor and cutting-edge VR headset running at the same time.
The ports are HDMI 2.0b, the latest update, with an 18Gbps bandwidth, up to 32 audio channels, and is able to support 4K 50/60 resolutions like 2160P, whilst remaining entirely backwards compatible with older HDMI specifications.
---
Dual BIOS Switch
The new NITRO Boost switch (Default Setting) increase the boost clock and power limit for higher performance to unleash the gaming performance of the card.

---
16K Hours Capacitor

High quality aluminum-made long life capacitor lengthens the life time of the product. Improved reliability and better overclocking are possible by using only high-polymer, aluminum capacitors which possess far superior characteristics than regular aluminum capacitor for a longer product life. When operational temperatures drop by 20°C, the product life span is extended by a factor of ten, when the operational temperature increases by 20°C, the product life span only decreases by 10%.
---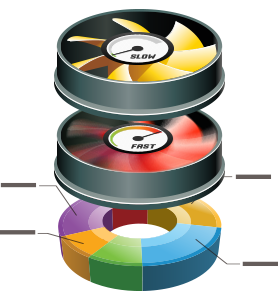 Intelligent Fan Control II
Intelligent fan control allows one or more fans to be stopped for lower nois
Specifications
GPU
2304 Stream Processors
14 nm
4th Graphics Core Next (GCN)
1430 MHz Boost Engine Clock / 2nd BIOS: 1411 MHz
Memory
256 bit Memory Bus
GDDR5 Memory Type
2100 MHz, 8400 MHz Effective
8 GB Size
BIOS Support
UEFI BIOS
Displays
Maximum 5 Outputs
Output
1 x DVI-D
2 x HDMI 2.0b
2 x DisplayPort 1.4
Resolution
5120×2880(60Hz) Pixel DisplayPort Resolution
2560×1600(60Hz) Pixel Dual Link DVI Resolution
4096×2160(60Hz) HDMI Resolution
API
OpenGL® 4.5
OpenCL 2.0
DirectX® 12
Shader Model 5.0
Feature
AMD CrossFire
AMD PowerTune
FreeSync Technology
AMD Eyefinity
Quad HD Display (4K*2K Support)
Video Codec Engine (VCE)
AMD HD3D Technology
Passive Cooling for Zero-noise Operation
Component Heat Spreader
16K Hours Capacitor
Dual BIOS
AMD Tress FX Technology
AMD Liquid VR Technology
AMD Virtual Super Resolution(VSR)
AMD TrueAudio™ Next Technology
AMD Xconnect ready
Universal Video Decoder (UVD)
DirectX™ 12 Optimized
Radeon VR ready Premium
HDR Ready
Frame Rate Target Control
NITRO Fan Check
NITRO Quick Connect system
NITRO Glow RGB LED
NITRO CoolTech(NCT)
NITRO Free Flow
Dual-X Cooling
NITRO Boost
Intelligent Fan Control III
Black Diamond Choke 4
Fuse protection
Precision fan control
Robust VRM Cooling
Radeon Chill
Radeon Relive
Cooling
Dual-X fans
Two ball bearing
Form Factor
2.2 Part Slot Occupied
260(L)X 135(W)X 43 (H) Dimension /mm
Power Consumption
<250W
OS
Windows 10 Windows 7
System Requirement
500 Watt Power Supply (Suggestion)
1 x 8-pin AUX Power Connector
1 x 6-pin AUX Power Connector
Blue-ray™ / HD DVD playback requires Blu-ray / HD DVD drive.
PCI Express® 2.0 or higher version based PC is required with one X16 lane graphics slot available on the motherboard in order for the card to be compatible with.
Additional information
| | |
| --- | --- |
| GPU | RX 580 |
| Video Memory | 8GB GDDR5 |
| Memory Bus (bit) | 256 |
| GPU BOOST CLOCK | 1430 MHz |
| Display Outputs | Maximum 5 Outputs Output : 1 x DVI-D 2 x HDMI 2.0b 2 x DisplayPort 1.4 |
| API | OpenGL® 4.5 OpenCL 2.0 DirectX® 12 Shader Model 5.0 |
| Power Consumption (W) | 250 |
| openGL | 4.5 |
| cooling | Dual-X fans Two ball bearing |
| dimension | 260(L)X 135(W)X 43 (H) Dimension /mm |
| Resolution | 5120×2880(60Hz) Pixel DisplayPort Resolution 2560×1600(60Hz) Pixel Dual Link DVI Resolution 4096×2160(60Hz) HDMI Resolution |